Graphite Optic Molds
These fine-grain graphite optic molds are machined by Weaver Industries, and are perfect if you are pulling your own pattern cane, and /or making your own millefiori.
Before use, please clean all graphite tools by gently washing them with mild soap and an SOS or Brillo pad to remove any graphite dust that may be left behind from the manufacturing process. Allow to dry completely before use.
---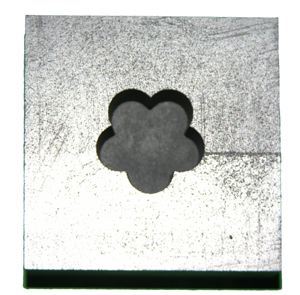 551000100
5 Point Optic Mold
2" x 2" x 1"

3 degree taper
7/8" dia. at the top x 1/2" deep

$20.00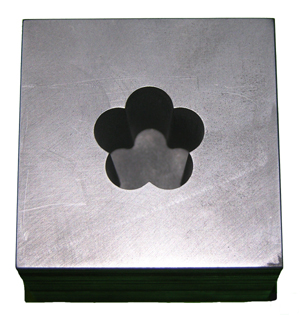 551000101
5 Point Optic Mold
2" x 2" x 1-1/2"

3 degree taper
7/8" dia. at the top x 1" deep

$27.25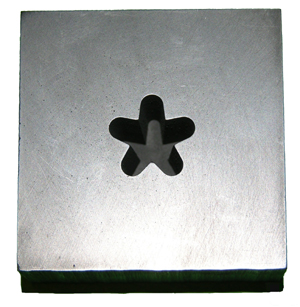 551000102 x 3/4" deep
5 Point Optic Mold
2" x 2" x 1"

3 degree taper
5/8" dia. at the top x 3/4" deep

$20.00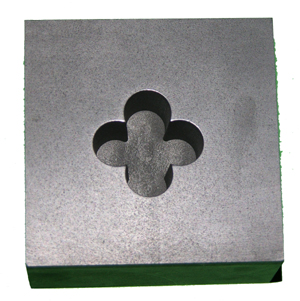 551000110
4 Point Optic Mold
2" x 2" x 1"

3 degree taper
7/8" dia. at the top x 1/2" deep

$20.00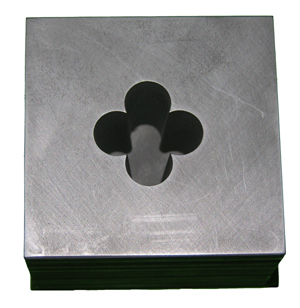 551000111
4 Point Optic Mold
2" x 2" x 1-1/2"

3 degree taper
7/8" dia. at the top x 1" deep

$27.25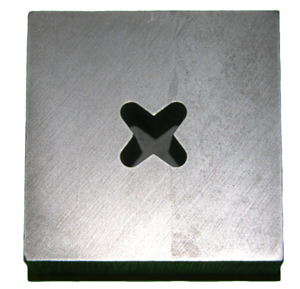 551000112
4 Point Optic Mold
2" x 2" x 1"

3 degree taper
5/8" dia. at the top x 3/4" deep

$20.00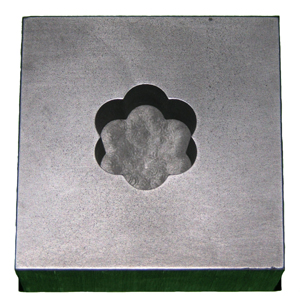 551000120
6 Point Optic Mold
2" x 2" x 1"

3 degree taper
7/8" dia. at the top x 1/2" deep

$20.00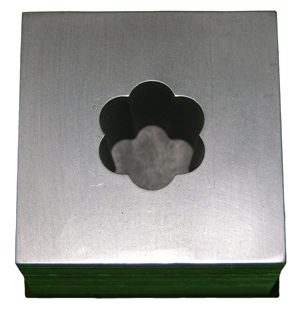 551000121
6 Point Optic Mold
1-1/2" x 2" x 2"

3 degree taper
7/8" dia. at the top x 1" deep

$27.25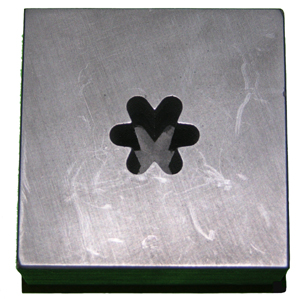 551000122
6 Point Optic Mold
2" x 2" x 1"

3 degree taper
5/8" dia. at the top x 3/4" deep

$20.00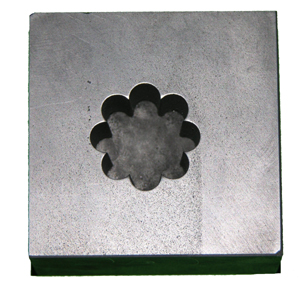 551000131
8 Point Optic Mold
1" x 2" x 2"

3 degree taper
7/8" dia. at the top x 1/2" deep

$20.00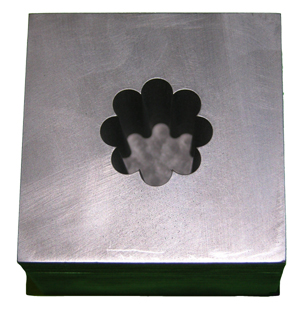 551000132
8 Point Optic Mold
2" x 2" x 1-1/2"

3 degree taper
7/8" dia. at the top x 1" deep

$27.25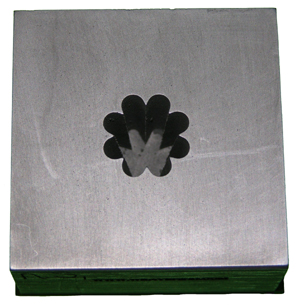 551000133
8 Point Optic Mold
2" x 2" x 1"

3 degree taper
5/8" dia. at the top x 3/4" deep

$20.00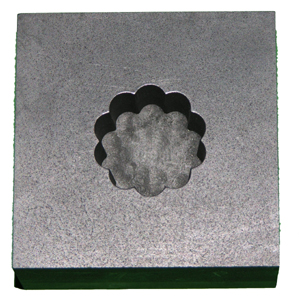 551000141
10 Point Optic Mold
2" x 2" x 1"

3 degree taper
7/8" dia. at the top x 1/2" deep

$20.00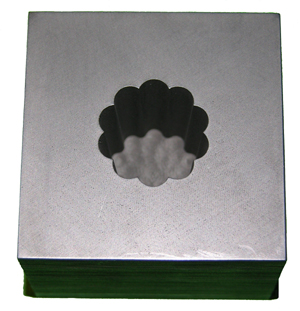 551000142
10 Point Optic Mold
2" x 2" x 1-1/2"

3 degree taper
7/8" dia. at the top x 1" deep

$27.25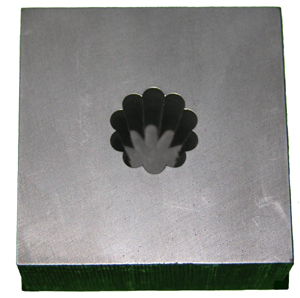 551000143
10 Point Optic Mold
2" x 2" x 1"

3 degree taper
5/8" dia. at the top x 3/4" deep

$20.00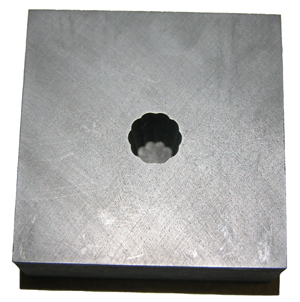 551000145
10 Point Optic Mold
2" x 2" x 1"

3 degree taper
7/16" dia. at the top x 1/2" deep

$20.00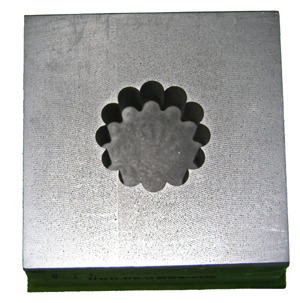 551000151
12 Point Optic Mold
2" x 2" x 1"

3 degree taper
7/8" dia. at the top x 1/2" deep

$20.00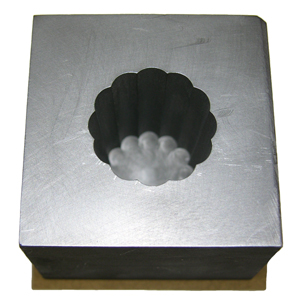 551000152
12 Point Optic Mold
2" x 2" x 1-1/2"

3 degree taper
1-1/16" dia. at the top x 1" deep

$27.25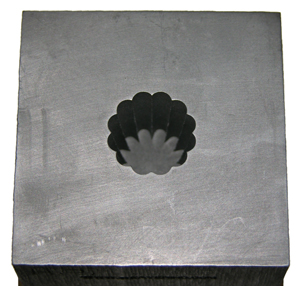 551000153
12 Point Optic Mold
2" x 2" x 1"

3 degree taper
5/8" dia. at the top x 3/4" deep

$20.00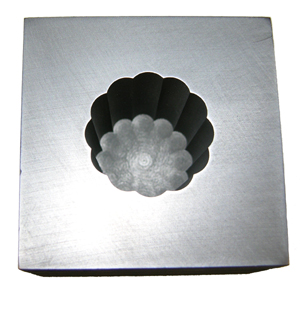 551000155
12 Point Optic Mold
2" x 2" x 1-1/2"

3 degree taper
7/8" dia. at the top x 1-1/4" deep

$27.25

551009000
4-in-1 Optic Mold
3" x 3" x 1"

3 degree taper
7/8" dia. at the top x 3/4" deep
Heart, 8 point, 10 point, & 12 point cavities

$40.00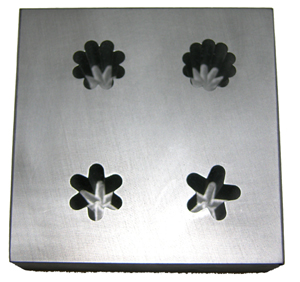 551009010
4-in-1 Optic Mold
3" x 3" x 1"

3 degree taper
7/8" dia. at the top x 3/4" deep
5 point, 6 point, 8 point, & 10 point cavities

$40.00

Graphite Optic Molds, by Weaver Industries

| Part Number | Description | Price |
| --- | --- | --- |
| 551000100 | 5 Point x 1/2" deep | $20.00 |
| 551000101 | 5 Point x 1" deep | $27.25 |
| 551000102 | 5 Point x 3/4" deep | $20.00 |
| 551000110 | 4 Point x 1/2" deep | $20.00 |
| 551000111 | 4 Point x 1" deep | $27.25 |
| 551000112 | 4 Point x 3/4" deep | $20.00 |
| 551000120 | 6 Point x 1/2" deep | $20.00 |
| 551000121 | 6 Point x 1" deep | $27.25 |
| 551000122 | 6 Point x 3/4" deep | $20.00 |
| 551000131 | 8 Point x 1/2" deep | $20.00 |
| 551000132 | 8 Point x 1" deep | $27.25 |
| 551000133 | 8 Point x 3/4" deep | $20.00 |
| 551000141 | 10 Point x 1/2" deep | $20.00 |
| 551000142 | 10 Point x 1" deep | $27.25 |
| 551000143 | 10 Point x 3/4" deep | $20.00 |
| 551000145 | 10 Point x 1/2" deep | $20.00 |
| 551000151 | 12 Point x 1/2" deep | $20.00 |
| 551000152 | 12 Point x 1" deep | $27.25 |
| 551000153 | 12 Point x 3/4" deep | $20.00 |
| 551000155 | 12 Point x 1-1/4" deep | $27.25 |
| 551009000 | 4-in-1 Optic Mold | $40.00 |
| 551009010 | 4-in-1 Optic Mold | $40.00 |