Mike Close's 'Awesome' Marble Molds
There's a good reason why Mike calls these his 'Awesome' marble molds! These large, machined graphite marble molds make making a round marble so easy! With the rolled lip design, you can produce a large variety of marble sizes with each cavity.
These measure 5-1/8" x 5-1/8" x 1-1/4". Available in two configurations:
---
The 'Most Awesome' 6 cavity mold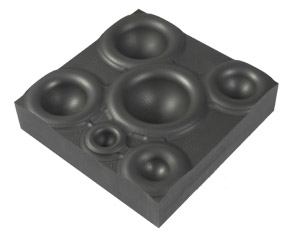 with the following cavity sizes:
1/2" dia.
3/4" dia.
1" dia.
1-1/4" dia.
1-1/2" dia.
1-3/4" dia.
---
The 'Awesome Large' 2 cavity mold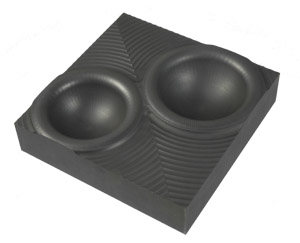 With this monster, you can easily do a 4" diameter marble (more like a paperweight to me!). With the following cavity sizes:
Mike Close's 'Awesome' Marble Molds

| Part Number | Description | Price |
| --- | --- | --- |
| Most Awesome | 6 cavity Marble Mold | $130.00 |
| Awesome Large | 2 cavity Large Marble Mold | $130.00 |