Books by Peter McGrain
Peter McGrain is clearly one of the most well-known and significant artists working in stained glass today. For over 25 years he has masterfully applied his skills in a wide variety of styles and themes that are unmistakably his own. His award winning pieces, which range in scale from small intimate art panels to large architectural installations, have gained international recognition for both their memorable imagery as well as their technical merit.
After you read about Peter and his career, watch and learn from him in his series of instructional videos.
---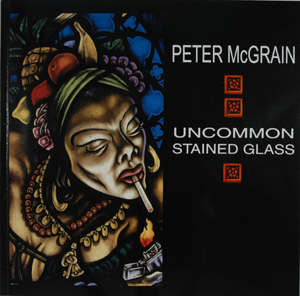 Uncommon Stained Glass
by Peter McGrain

First Edition
Copyright 2002
ISBN 0-9629053-2-1
Paperback
187 pages
$39.95

Uncommon Stained Glass explores the art work of Peter McGrain in complete chronological order. It traces his artistic development from his earliest efforts as a self-taught hobbyist to his most recent professional accomplishments. The reader gains insight into not only his unique work, but also his personal life and the path he has followed toward realizing his dream of becoming an artist.
Uncommon Stained Glass

| Description | Price |
| --- | --- |
| Uncommon Stained Glass | $39.95 |