Books by Kay Bain Weiner
Kay Bain Weiner, a dynamic speaker and instructor, has taught hundreds of workshops in the United States and abroad. She is the author of 14 books on glass art and design, and has written and produced several related audio and videotapes. She is also the developer of various techniques, tools and supplies used throughout the glass industry. Kay has worked in stained and fused glass for many years, and has had numerous commissions for residential and public buildings.
---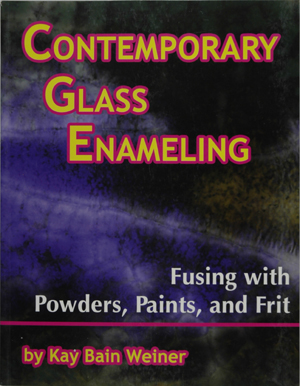 Contemporary Glass Enameling
First Edition
Copyright 2005
ISBN 0-9720523-1-3
Paperback
167 pages
$37.95

This fascinating and colorful text by Kay Bain Weiner covers a wealth of traditional and innovative contemporary glass-enameling techniques. Loaded with "How-To" photos and instructions for creating tableware, dividers, box and lamp panels, tiles, sun catchers, and jewelry.
Kay explains how to decorate glass by brushing wet enamel paints or sifting dry enamels, powers, and frit using stencils, unique tools, and gadgets. Learn all about paint, brushes, expressive brush strokes, and other distinctive enamel paint applications.
See how she combines hot glass inclusions (sheet copper, gold and silver leaf, wire, mica flakes) to achieve special effects. Learn to use decals, luster, and gold and silver paints. Finally, receive valuable information on fusible glass, enamel color selection, molds, kilns, firing and annealing.
Contemporary Glass Enameling

| Description | Price |
| --- | --- |
| Contemporary Glass Enameling | $37.95 |
---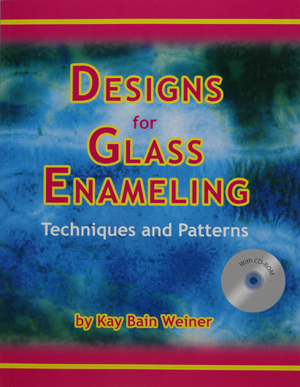 Designs for Glass Enameling
First edition
Copyright 2005
ISBN 0-9720523-3-X
Paperback
80 pages, with CD
$29.95

This is a companion book to Kay's first book, Contemporary Glass Enameling. Easy-to-follow instructions and color photos demonstrate how to apply various glass enamel techniques.
Ignite your creativity with over 130 mix-and-match patterns in various sizes, complexities, motifs, and styles, from traditional to abstract. The patterns are ideal for creating tiles, tableware, box tops, panels, table tops, and more. These versatile patterns can also be used for fused, sandblasted, or stained glass projects.
The included CD-ROM contains all the patterns in this book and comes in JPEG format at 300 dpi. The CD-ROM is Mac and PC compatible.
Designs for Glass Enameling

| Description | Price |
| --- | --- |
| Designs for Glass Enameling | $29.95 |
---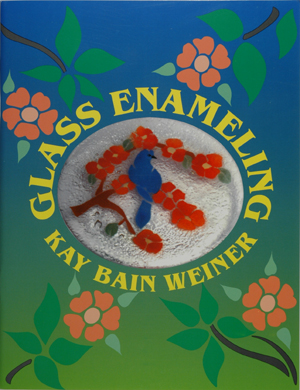 Glass Enameling
First edition
Copyright 1996
ISBN 0-9625663-7-3
Paperback
64 pages
$16.95

Beginners and experienced craftspersons alike will be inspired by these how-to photos, illustrations, and patterns. Covering a wealth of ideas and techniques, this book describes in explicit detail glass cutting, stencil construction, and decorating glass. Instructions for laminating and slumping glass, kiln firing, and annealing are also included, giving the reader a wide overview of wet and dry enamel techniques.
Glass Enameling

| Description | Price |
| --- | --- |
| Glass Enameling | $16.95 |