Books by Rocio Bearer & Ron Bearer Jr.
"Welcome to our new series of instructional lampworking books. The lampworking world is growing and changing rapidly. These books are written to provide some basic instruction on new techniques, concepts and glass art projects for beginning to advanced glass artists. We hope you enjoy these books as much as we enjoyed putting them together."
Rocio & Ron
---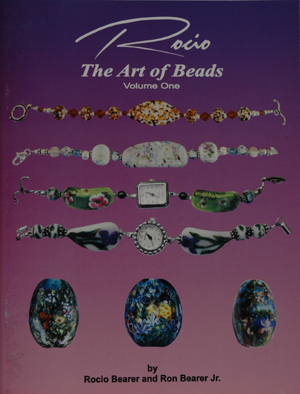 The Art of Beads, Volume 1
by Rocio Bearer & Ron Bearer Jr.

First Printing 2006
Paperback
35 pages
$16.00

A complete how-to book covering six projects:
Using a Cattwalk Brass Mold to make a Marquis Flower Bead
Reduction Frit Bead
Bead Bending
Dichroic and Jewel Beads
Garden Beads
Using Bent Beads to Assemble a Watch
The book wraps up with a photo gallery of bent beads.
The Art of Beads, Volume 1

| Description | Price |
| --- | --- |
| The Art of Beads, Volume 1 | $16.00 |
---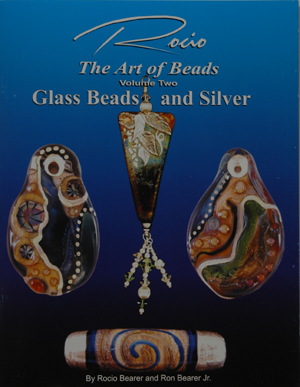 The Art of Beads, Volume 2
Glass Beads and Silver
by Rocio Bearer & Ron Bearer Jr.

Paperback
32 pages
$16.00

Enhance your glass beads by adding fine silver. With step-by-step instructions, Rocio clearly illustrates several methods of adding silver clay to glass beads, pendants and cabochons to create beautiful jewelry. Includes:
The Syringe Bead
Shining Dots
Silver Snow Balls
Bead in a Cage
The Leaf Bead
Setting a Dichroic Heart
Creating a Custom Silver Pendant
The Art Glass and Silver Cabochon
Liver of Sulfer
Using Overlay Paste
Bead Distortion and Bead Bending
Gallery
The Art of Beads, Volume 2

| Description | Price |
| --- | --- |
| The Art of Beads, Volume 2 - Glass Beads & Silver | $16.00 |
---
The Exotic Art of Glass Bracelet Forming
by Rocio Bearer & Ron Bearer Jr.

Paperback
45 pages
$17.95

This book is an essential guide to creating the most amazing fused glass bracelets. Authors Ron Bearer Jr. and Rocio Bearer present fresh, creative ideas, as well as instruction on the basic elements of bracelet forming and design. Covers:
The Tool Kit
The Glass
The Basics
Easy Design Techniques
Moderate Design Techniques
Masterful Design Techniques
Gallery
The Exotic Art of Glass Bracelet Forming

| Description | Price |
| --- | --- |
| The Exotic Art of Glass Bracelet Forming | $17.95 |