the Hot Head torch
An inexpensive way to begin learning lampworking. Even so, a large number of artists choose to stay with the Hot Head torch, rather than investing in a larger, more expensive torch.
---
the Hot Head torch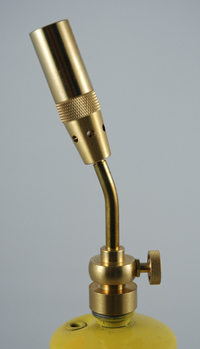 This torch was designed with glassblowers in mind. It uses disposable propane or MAPP gas bottles (available at most hardware stores and home centers), and does not require additional oxygen or compressed air.
The Hot Head torch is not as hot as an oxy/fuel torch, but you can still make soft-glass beads, marbles, and small sculptural pieces (abeit a bit slower than with an oxy/fuel torch). A good, inexpensive way to 'test the waters', and see if you enjoy working with hot glass.
Hot Head Torch

| Part Number | Description | Price |
| --- | --- | --- |
| BUHOT | Hot Head Torch | $40.00 |
(Gas bottle not included)
---
Hot Head holder with work surface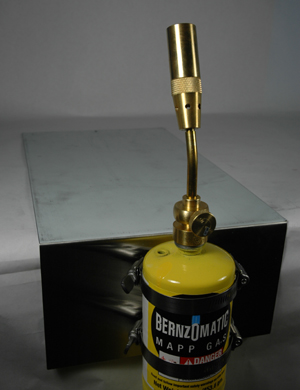 Securely holds the small propane or MAPP gas bottle off the front edge of your work table. You can adjust the height of your torch by sliding the gas bottle up and down before tightening the clamps.
The fireproof, stainless steel work surface provides 9 x 16" of coverage of your work table.
When you decide to upgrade to using a larger bulk fuel tank (like a BBQ fuel tank) with the optional hose set (below), a simply adjustment of the clamps allows this holder to still hold your torch.
Hot Head holder w/work surface

| Part Number | Description | Price |
| --- | --- | --- |
| HOTWS | Hot Head holder w/work surface | $24.00 |
(Gas bottle not included. Torch sold separately.)
---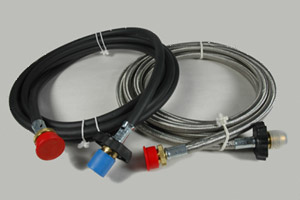 Fuel gas (propane, MAPP gas, etc.) is much more economical when purchased in larger quantities, instead of in the disposable cylinders. These hoses will allow you to connect your Hot Head torch to a bulk fuel tank (such as a BBQ fuel tank). No regulator is needed with this kind of setup.
Now, we all know that we're supposed to keep our propane tanks outside. So, I was concerned when the standard Hot Head hoses only came in five foot and twelve foot lengths. Five foot?!?!?! You'd have to sit on the propane tank if you used a five foot hose! So, I decided to make up some proper Hot Head hoses.
I had an industrial hose assembler fabricate these for me. We started with high pressure (350 psi) hose rated for use with LPG and Natural Gas. Then, we attached the HotHead adapter on one end, and wrenchless POL fitting on the other.
These hose assemblies are available in 12', 16' and 20' lengths!
Plus, for those wishing additional protection for their hose, I also have these with a stainless steel braid over the outside of the hose. Currently, I have this only on the 12' hose, but will offer it on the longer hoses if there is enough interest.
Hot Head hose set

| Part Number | Description | Price |
| --- | --- | --- |
| HH Hose-12 | 12' hose set | $31.20 |
| HH Hose-16 | 16' hose set | $37.00 |
| HH Hose-20 | 20' hose set | $42.80 |
| | | |
| HH Hose Overbraid-12 | 12' hose w/overbraid | $53.50 |