Books by Bandhu S. Dunham
Born in Dayton, Ohio, in 1959, Bandhu began to teach himself lampwork technique in 1975, while still in high school. As an undergraduate at Princeton, he received informal training from the University's glassblower before completing his apprenticeship under American and European masters at Urban Glass, the Pilchuck Glass School and the Penland School of Crafts. He regularly teaches workshops at craft schools and private studios around the United States and international. Bandhu is currently an independent glass artist and the owner of Salusa Glassworks, Inc.
---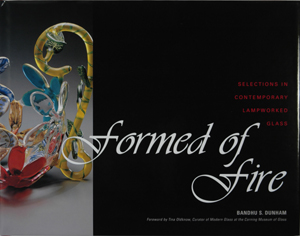 Formed of Fire:
Selections in Contemporary Lampworked Glass

Copyright 2002
ISBN 0-9658972-2-2
Full color hardcover
128 pages
$19.95

A lavishly illustrated showcase edited by Bandhu Dunham, one of the founding members of the modern movement of artistic lampworkers. This "coffee table" book showcases the work of over 75 established and emerging artists in the lampwork field, from the United States, and around the globe.

Simply defined, lampwork is the craft of shaping glass in a torch flame. The name derives from the original practice of melting glass rods and tubes in the flame of an oil lamp. In modern times, glassblowers typically use a gas-oxygen torch flame to heat their materials.

Lampworked glass (sometimes called flameworked glass) is one of the most dynamic branches of the studio glass movement. Since the 1980s, lampworking has exploded into the awareness of artists and collectors with a delightful variety of styles and techniques. Everything from tiny beads and marbles, to paperweights, to huge architectural installations can be, and is made, using lampwork methods.

In these pages, feast your eyes upon creations by today's best lampwork artists. An historical introduction, demonstration sequences by some of the featured artists, and a glossary of lampworking terminology round out this indispensible guide to lampworked glass.


Formed of Fire

| Description | Price |
| --- | --- |
| Formed of Fire | $19.95 |
---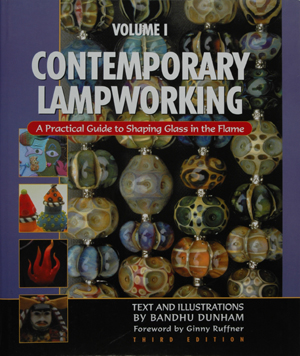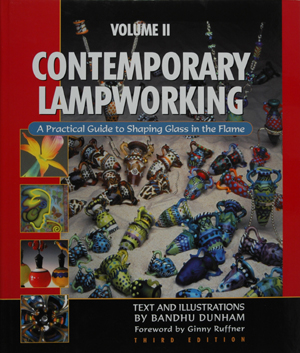 Contemporary Lampworking, Volumes 1 & 2
Copyright 2002
ISBN 0-9658972-1-4
Full color hardcover, concealed spiral binding
512 pages total
$69.95 (for both volumes)
Lampworking, also sometimes called flameworking, is a rich, creative glassblowing tradition. The equipment is simple enough for most hobbyists to set up in their own home, yet the technique is flexible enough to suit the most demanding artist. Here is instruction of basic and advances lampworking techniques, complete with technical background data, made easy to understand.
Contemporary Lampworking
has been used as a text and is recommended by lampworking instructors across the U.S. and abroad. Widely praised, it has become the "bible" in its field. Revisions in the third edition reflect the astonishing growth of lampworking. Listings for suppliers, schools and other contacts have been thoroughly updated. Recent works by many artists have been added throughout the text and in two full color "Gallery Sections" now expanded to showcase nearly a hundred artists.
Presented in two conveniently organized volumes, with larger pages and an improved binding,
Contemporary Lampworking
has truly become the encyclopedia of flameworking technique. Those who own a previous edition will want this updated version. Future changes and growth in the field will be documented in additional volumes, building on the foundation of this two-volume set.
Over 100 pages of new material include additional techniques for jewelry, marbles, beads, paperweights, vessels, goblets, neon plasma sculpture, millefiore canes, lathe working, core-forming and combinations of lampwork with other glass techniques. Health and safety information has been newly updated to reflect recent NIOSH research. Chapters on the history of lampworking and the general properties of glass have been greatly expanded, enriching your historical and conceptual appreciation for this highly addictive craft.
This edition features more than 1500 illustrations, including detailed step-by-step photos and drawings, as well as inspiring photo of lampworked art. Work by almost 100 living and historical lampworkers is represented in 32 pages of full color, making
Contemporary Lampworking
of special interest to collectors as well as glass artists.
Topics include:
The Origins of Lampworking
Understanding Glass
Setting Up a Lampworking Studio
Basic Solid Techniques
Basic Hollow Techniques
Beads and Such
Marbles, Paperweights and Related Forms
Annealing
Health and Safety for Lampworkers
Solid Sculptural Techniques
Hollow Sculptural Techniques
Working With Color
Core-Forming
Basic Lathe Techniques
Crossover and Mixed Media
Thoughts on the State of Lampworking
Glossary
Further Study
Suppliers
Technical Information
Preventing Stiffness and Pain in the Lampworker
Teaching Studio Recommendations
Mixing Colored Borosilicate Glass
Chemical Hazards
Photographing Your Work
Packing and Shipping, Glossary, Index.
Contemporary Lampworking, Volumes 1 & 2

| Description | Price |
| --- | --- |
| Contemporary Lampworking, Volumes 1 & 2 | $69.95 |