The Art of Fire - Beginning Glassblowing
by James McKelvey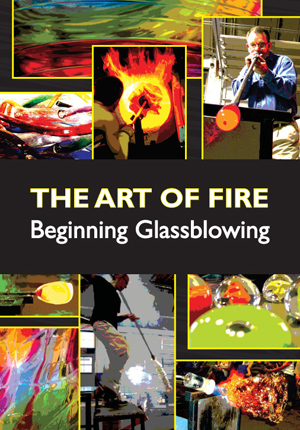 The Art of Fire - Beginning Glassblowing
Copyright 2006
248 pages
$40.00

A new way to learn. Studio time is expensive. Unfortunately, most glassblowing students still learn through a combination of apprenticeship and observation - a slow and inefficient method. The Art of Fire teaches you quickly how to manipulate the glass through a series of structured lessons and exercises, including:
Safety exercises to reduce burns
Available Companion DVD with 6 hours of video instruction
Over 500 photographs and illustrations
Step-by-step instructions for all basic techniques
Fixes for more than 50 common problems
About the author
James McKelvey began teaching glassblowing in 1987 and has taught thousands of students how to safely play with fire. He is co-founder of Third Degree Glass Factory and a popular speaker on the art of glassblowing.
"I wish this book was around when I first learned to blow glass! This is rapidly becoming the standard textbook in glassblowing programs all around the country."
Malcolm
The Art of Fire - Beginning Glassblowing

| Description | Price |
| --- | --- |
| The Art of Fire - Beginning Glassblowing | $40.00 |