Essemce - Duckbill Shears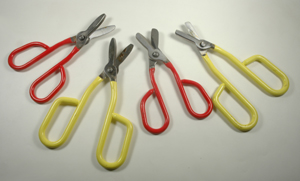 The SMC type 'Duck Bill' shears are snub-nosed shears especially designed for triming the lips of a vessel form. They have blunt tips and a slight curvature of the blades to prevent digging into the glass with the shear tips and also to minimize tooling marks and distorting the lip.
Available with Large (yellow) or Small (red) handles, and 2 blade lengths.
Duckbill Shears
Part #
Description
Blade Length
(from bolt center)
Price
SMC-1
w/Large Handles
2-1/4"
$148.75
SMC-1S
w/Small Handles
2-1/4"
$148.75
SMC-2
w/Large Handles
2-1/2"
$150.25
SMC-2S
w/Small Handles
2-1/2"
$150.25