Gott Steamer Hand Shaping Pad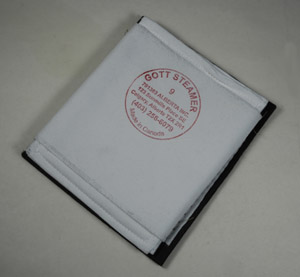 Combining the water-retaining and insulative properties of our new 100% cotton insert with the unique graphite interface, the GOTT STEAMER Hand Shaping Pad is the most popular and widely-used component of the system.
Quenched liberally during use, it will not scar hot glass, smoke or burn.
Superior thermal protection for your hand due to the insulative properties of the graphite interface and cotton insert is an added benefit!
The new cotton insert never breaks down, providing a stable, low memory moisture reservoir.
The Hand Shaping Pad, constructed with a high-quality cotton pocket and the best temperature-resistant thread available, is guaranteed to be free of material and manufacturing defects.
Instructions for preparing and maintaining your GOTT STEAMER Hand Shaping Pad are included with each order. Sold individually.
Gott 'Steamer' Hand Shaping Pad

| Name | Size | Price ea. |
| --- | --- | --- |
| Small | 6" x 6" | $76 ea. |
| Standard | 7" x 8" | $83 ea. |
| Gorilla | 9" x 10" | $110 ea. |